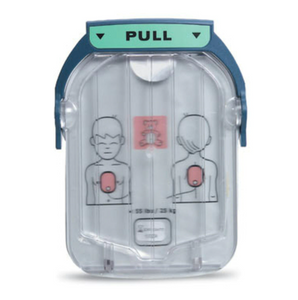 OVERVIEW
PRODUCT DESCRIPTION
Infant/Child SMART PADS Cartridge
Children under 8 years or weighing less than 55 pounds (25 kg), including infants, should be treated using HeartStart Infant/Child SMART Pads. These pads instruct the Philips HeartStart OnSite AED defibrillator to reduce the energy of its shock from 150 to 50 Joules (J).
The Infant/Child Pads cartridge is marked with an indication of the appropriate weight and with a teddy bear icon for easy identification.
If you're buying electrode pads for your 
Philips AED,
now would be a great time to check the status and expiration date of your battery pack, too!
Expiration: Note that electrode pads for the Philips HeartStart Home and OnSite AED units 
must
 be replaced after use or by the indicated expiration date. Check the expiration date which is located in the white box underneath the diagram that shows where to place the electrode pads during use.
WARRANTY INFORMATION
Anytime a device under our AED365 Pro Plan is used for an attempted save we will send out free replacement pads. Up to 2x per AED per year.