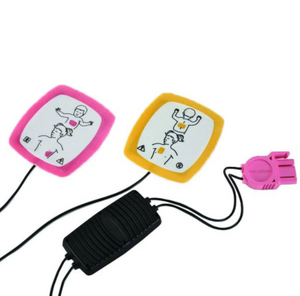 OVERVIEW

PRODUCT DESCRIPTION
Stryker/Physio-Control Replacement Infant/Child Electrodes.
Replacement Infant/Child Reduced Energy Defibrillation Electrodes for use only with LIFEPAK 500 Biphasic AED with pink connector or LIFEPAK 1000 defibrillator, LIFEPAK EXPRESS or LIFEPAK CR Plus AEDs. For use on children less than 8 years of age or less than 55 lbs.
WARRANTY INFORMATION
Anytime a device under our AED365 Pro Plan is used for an attempted save we will send out free replacement pads. Up to 2x per AED per year.​